Contact Form :
An asterisk (*) indicates a required field.
Quick Services

Welcome

to Urban Creative Concrete!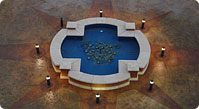 Decorative Residential and Commercial Concrete
Your uniquely designed concrete project is waiting to be created.
Put timeless style into your residential or commercial property.
We guarantee you will be satisfied with our workmanship.
Call for a free estimate or with questions.We are easy to reach
at (262) 770-0760.
Phone: (262) 770-0760 / Fax: (262) 835-9672